The limestone landscape of Pu Luong is a nature reserve with beautiful nature, culture and high biodiversity that extends from Mai Chau all the way to Cuc Phuong National Park. It is some impressive limestone moutains covered with jungle and beautiful rice terraces in between.
Pu Luong is located in two provinces; Hoa Binh and Thanh Hoa, about 160km southwest of Hanoi. It is a popular weekend gateway, but sees relatively few foreign visitors. This makes a nice change from the nearby and more popular Mai Chau. The reserve was established in 1999 to protect the biodiversity of the area. Here you will find a mix of pristine forests and cultivated rice terraces. It is a perfect landscape for a trekking and multi-day hikes are therefore the most popular activity.
What to see in Pu Luong
1. Water Wheels
Part of the charm of Pu Luong are the bamboo water wheels that you see along the river. The rice grown in these parts must be submerged to thrive for a large amount of water (as opposed to moutain rice, which can be grown in dry rice fields). Built by people from the Thai and Muong ethnic groups, the water wheels collect water from low-lying streams to feed the huge rice crops. They are particularly useful during the dry season and periods of drought when the water level is low. You will find the water fields along the rocky streams that run through Pu Luong.
If you see them up close, you realize how simple but effective the water wheels are. The wheel rotates slowly under its own power, driven by the flowing stream. The length of the bamboo pipe scoops up small amounts of water and once at the top it delivers it into a bamboo tube.
2. Rice terraces
During your research on Vietnam, you have probably come across that you have to view the rice terraces of Sa Pa. Few people know that you can also see a similar landscape in the Pu Luong Nature Reserve. Although the terraces are less steep, they are certainly just as beautiful.
3. Villages of ethnic minorities
The largest ethnic group living in this area the White Thai. This group is descended from people from Thailand and the language they speak is also more like Thai than Vietnamese. During your trip you will pass through these minority villages and get a glimpse into a way of life that will hopefully last for a long time. The harmony that people have with nature is rare. The great thing here is that tourism hasn't effect life, which makes everything very authentic. Staying in one of these villages at a homestays is a great way to experience local culture and see what life is like for Vietnamese minorities.
4. Moutains, jungle and waterfalls
Pu Luong has also some incredible angle jungle, moutains and waterfalls. Most of them can be best explored by hiking and there are lots of trials to choose from. Most of them you will see the terraces rice fields, villages, moutains and jungle. The Thac Hieu Waterfall is the most know waterfall and can also be reached with a short hike from Hieu village. It is a great place to relax even take a dip to cool down after your trekking.
5. Caves
There are a few caves in Pu Luong. Doi Cave (Hang Doi) is the biggest one and you can make a trekking to the cave. The cave itself is not very spectacular compared with the caves in Phong Nha, but the way to get there is amazing. It is close to Kho Muong Village, of the White Thai. A short trekking through the village and the rice fields, where you can witness how the local minorities work on the fields, takes you to Hang Doi Cave. There are thousands of bats living inside the cave with 5 different species.
6. Local Market
If you happen to be in Pu Luong on either a Thursday or Sunday, make sure to visit the local market in Pho Doan. At the Pho Doan Market (or Pu Luong Market) local Thai minorities from all over the area come in their beautiful tradional clothes to trade their products. Most of the products are foods, like vegetable, fruit, meat, clothes, silk, farm equipment and household goods. This moutainous market is fun to watch and very traditional.
What to do in Pu Luong Nature Reserve
Trekking in Pu Luong
Most tourists come to Pu Luong for a trekking. Some of the trails even extend to the adjacent Cuc Phuong National Park in the east, in the province of Ninh Binh. Treks range from leisurely walks to picturesque places and caves in the mountains, to multi-day hikes to remote waterfalls, peaks and forests, where you stay in different homestays along the way.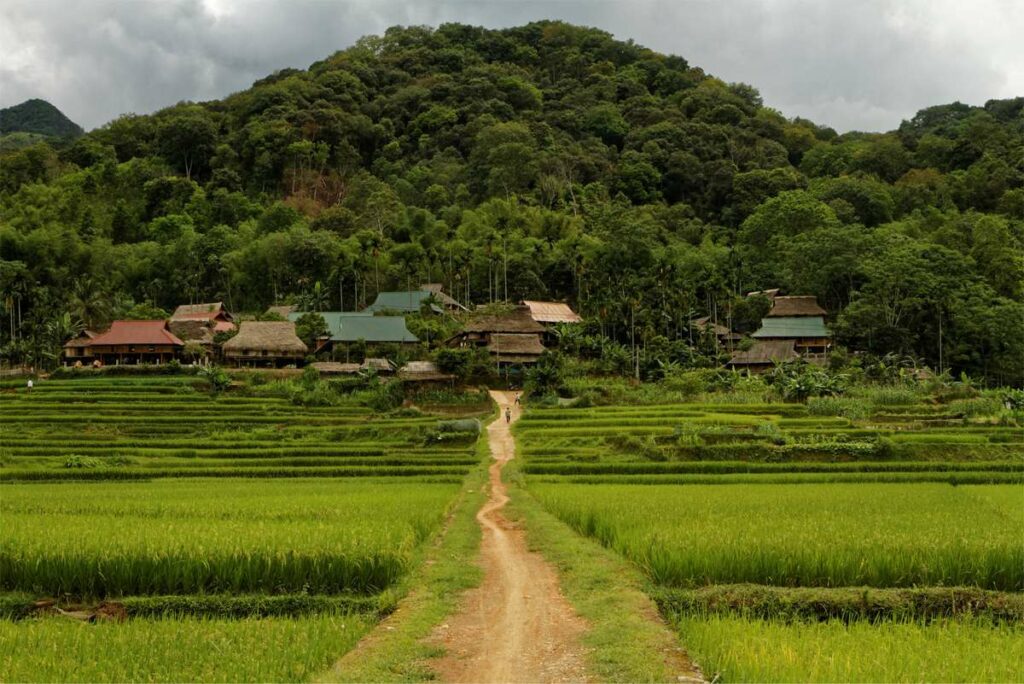 Pu Luong and the surrounding area are littered with a number of very picturesque waterfalls that run through the jungle and over limestone rocks, where the water gathers in clear swimming pools that are perfect for swimming. Thác Hiêu is particularly striking and conveniently located close to the two homestay clusters of Ban Hieu. But further to the east, Thác Mây and Thác Mu can also be reached hiking, by bike or by motorbike and just as beautiful.
Rafting
Rafting is done on a quiet river on a bamboo raft. You travel like a local fishermen down a river and whatch local farming life on both sides and pass a couple of bamboo water wheels from up close. It is a very peaceful way of seeing the life along the Cham River.
Biking
There are no bikes or mountains bikes being rented directly at the lodges or homestays. Biking is mostly done by tour. It is a very cool and exciting way to explore the area.
Motorbike & Private car
There are some places that rent motorbikes. The roads are in good shape and traffic in this area is very low, but it is wise to know the traffic rules and rules of driving without a Vietnamese licence in Vietnam. Some homestays offer to show you the area on the back of a motorbike. If you are staying in a eco lodge or resort there are options to rent a private car for the day that can bring you to all the highlights.
Best time to visit Pu Luong
The best time to visit Pu Luong is during the rice harvest season, from September to November, when the rice fields change to shades of yellow and gold. Or February to May, the green season. The weather is pleasant, there are fewer tourists in the area, and the best of all is that the landscape is lush and green.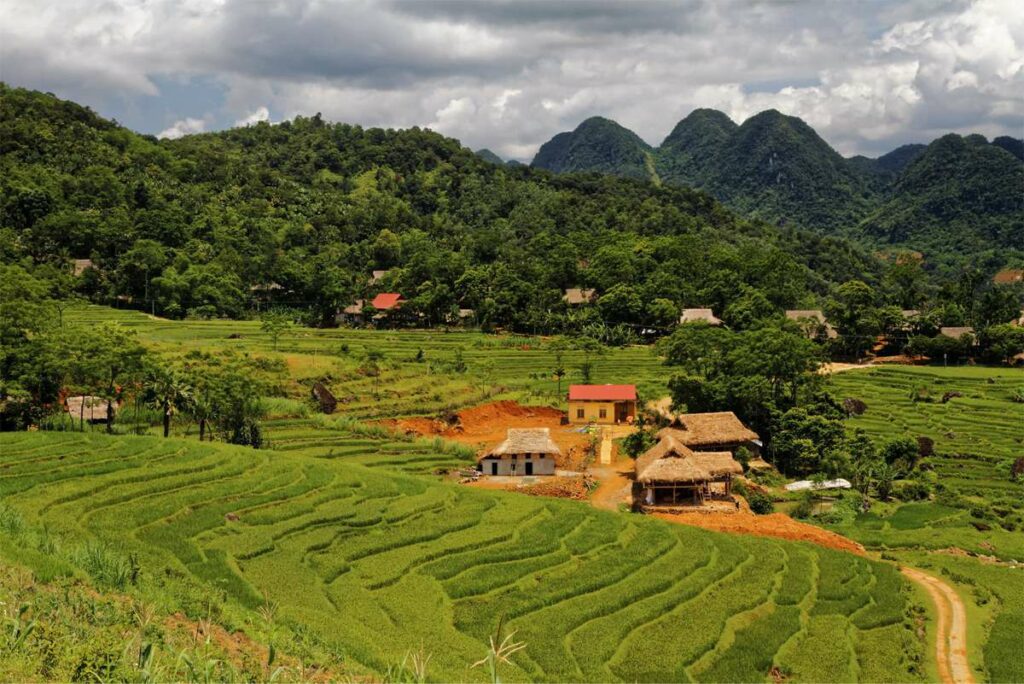 Where to stay in Pu Luong Nature Reserve
A narrow road cuts through the reserve along the valley and connects a series of small villages and hamlets.
Eco-lodge and resorts
There are just two eco lodges in Pu Luong Nature Reserve:
Pu Luong Retreat

Pu Luong Eco Garden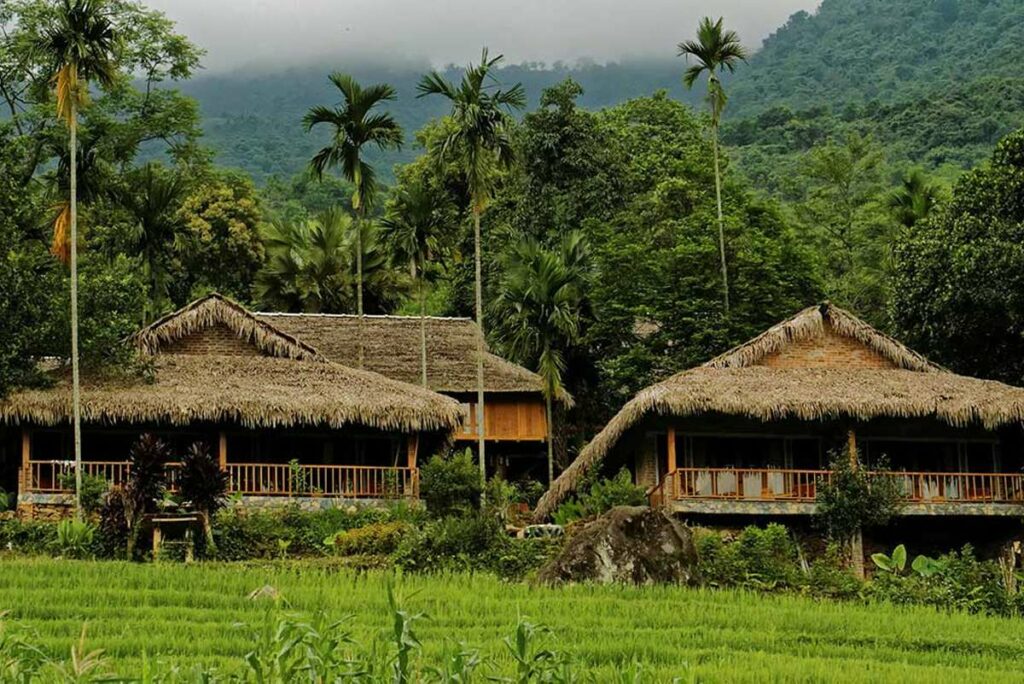 Pu Luong retreat
Homestay
In the typical homestays, the rates for sleeping at night are incredibly cheap: between 50,000-100,000vnd ($ 2- $ 4) per night. This is because the sleeping places are simple: usually a mattress on a wooden floor under a mosquito net in a common dormitory on the first floor of a stilt house, often with curtains or partitions for privacy, and a shared bathroom.
Villages and areas
Ban Hieu: A small but scattered collection of thatched bamboo houses on stilts, built on a steep mountain slope. There is a collection of at least five homestays, each a little further up the mountain slope than the previous one. The village can only be reached on foot or by motorbike.
Kho Muong: A spectacular location with extraordinary views. The most famous accommodation is Pu Luong Retreat. This is a luxury boutique-style resort with an infinity pool. Further down the hill you will find Pu Luong Treehouse and Nature Lodge.
Ban Hang: You come here via a steep dirt road that leads from the main road QL15C through Pu Luong. Here you will find a cluster of homestays. These homestays are popular with young Vietnamese travelers and some travel groups. Because the location is low (in the valley), the views are not as spectacular as other homestay areas.
Lung Cao / Ban Nua: In the middle of the nature reserve. Ban Nua Homestay is generally very nice but simple. Some of the host families are accessible via the asphalted road along the valley, but others need a good motorbike, 4 × 4 or going on foot.
Eating & restaurants
Because Pu Luong Nature Reserve has no towns or large villages, and because most homestays are located in relatively remote hamlets in the countryside, there are almost no shops, food stalls or restaurants. Instead, the host families cook delicious meals for their guests. It is still a good idea to bring some snacks for in between meals. The price of sleeping in a host family does not include food. Because sleeping places are usually simple, the cost of meals is often two or three times as much as when sleeping. Prices range from just 30,000-70,000vnd per person for breakfast, to 100,000-250,000vnd per person for dinner. So expect to pay around 200,000-250,000vnd per person for half board.
For staying in eco-resorts the same applies, you will mostly eat in in the resort. During a day tour you eat at a local house or sometimes lunch is prepared.
How to get to Pu Luong Nature Reserve
Tour to Pu Luong
If you do not have much time or do not want to ride everything with the motorcycle, we strongly recommend that you go on a tour. A tour to Pu Luong often includes sightseeing, an overnight stay in a homestay, a small trek and food. Tours to this place are often in small groups or private tours. It is also not advisable to travel with a large group. In addition, there are also day tours from Mai Chau, which can be a good option if you don't want to stay in a homestay and there is no availability in the resorts in Pu Luong.
Make sure to check out the tours of Local Vietnam to Pu Luong. You can combine Pu Luong with Mai Chau or even Pu Luong and Ninh Binh.
By yourself
Pu Luong is around 150 kilometres from Hanoi, and takes about 4,5 hours to get to by car. You can also hire private shuttles from Hanoi, with a stop in Mai Chau along the way. There is no direct buses from Hanoi but there are buses to Mai Chau from My Dinh bus station, where you can take a taxi for the last 90-minute drive to Pu Luong.