Ever wondered about finding an amazing masterpiece of nature in the north of Vietnam? For the duration of just 2 days, a tour to Ban Gioc Waterfall (Cao Bang Province) should be the first thing on your bucket list to get rid of the hustle and bustle and immerse yourself in the breathtaking beauty of landscapes.
I. Highlights of Ban Gioc Waterfall
Ban Gioc has gained a name for being one of the 4 largest cross-border waterfalls of the world generally, and particularly among the most famous in Vietnam. For the last few years, there has been a surge of tourists who cross the globe to observe its uniquely exotic, natural beauty.
Located in Dam Thuy Commune (Cao Bang City) which is 335km away from Hanoi, Ban Gioc Waterfall shares part of its border with Quang Tay Province (China) the western side belongs to Vietnam, while China affirms their ownership of the eastern side. Therefore, Ban Gioc Waterfall area achieves a rich diversity of cultural patterns indigenous ethnic minorities.
Both countries are committed to deriving substantial benefits from the site in terms of tourism and economic profits. What makes Ban Gioc Waterfall scene captivating is its extraordinary flow of water running dazzlingly along stair-like moulds, which looks like a giant doorstep of mother nature. This seductive charm is undoubtedly a major factor that attracts tourists from all over the world.
II. What to do & Where to go in Ban Gioc Waterfall?
The regional area of Ban Gioc not only wins acclaim for its waterfall but also draws a huge attraction to other splendid scenery. Don't you ever miss the chance to visit the following beautiful spots:
1. Nguom Ngao Cave
Deeply carved into a moutain, the 2144-meter cavern which stands among the most charming caves of Vietnam was found in 1921. According to Tay people's traditional language. "Nguom Ngao" means "tiger" or "cave of the stone valley". Its stalactites hanging from the roof would make a lasting impression as they have been deposited by dripping water for hundreds of millions of years.
2. Thang Hen Lake
Thang Hen Lake area consists of 36 natural lakes lying within a steep valley, all of which cluster around each other, surrounded by dense forests and stony fields. With regard to Tay dialect, Thang Hen's meaning originates from "the body of the bee" due to the lake's curved shape. In the morning, you should feel overwhelmed by the whole scene sheathed in clouds of mist rising out of the blue lakes.
3. Ma Phuc Pass
Ma Phuc moutain pass situated between Tra Linh District and Hoa An District has gained recognition for its outstanding beauty. In ordrer to get through, people must go past a narrow 7-bend road which can only be handled by capable drivers. The pass overlooks the highlands with a grandiose view of interminable mountains and forest.
4. Pac Bo Historical Monument
Pac Bo cave where Uncle Ho stayed and contemplated the future of revolution is recognized as a national historical monument. In addition to the cave, Pac Bo site includes Lenin stream, Uncle Ho commemoration house, Lung Lan Cave... Here lies the most credible evidence of Uncle Ho's plain lifestyle, his major contribution to the war as well as his plans for better civic welfare.
III. What to Eat When Visiting Ban Gioc Waterfall?
Here are the 4 most recommended cuisines when you get a chance to visit Ban Gioc Waterfall and its local area:
1. Grilled "Aloeswood Fish" (Cá Trầm Hương Nướng)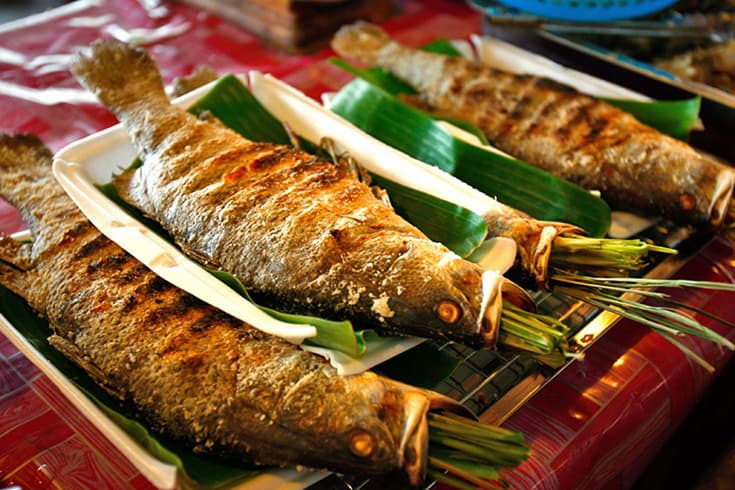 The fish's name originates from its habit of feeding on aloeswood leaves and trunks. Before the grilling process, they are rinsed thoroughly with water to get rid of the dirt, stuffed with spices such as onions, chillies, dill… then wrapped into banana leaves. You can feel the sensation of aloeswood flavour when you taste the fish.
2. Ant's Egg Cake (Bánh Trứng Kiến)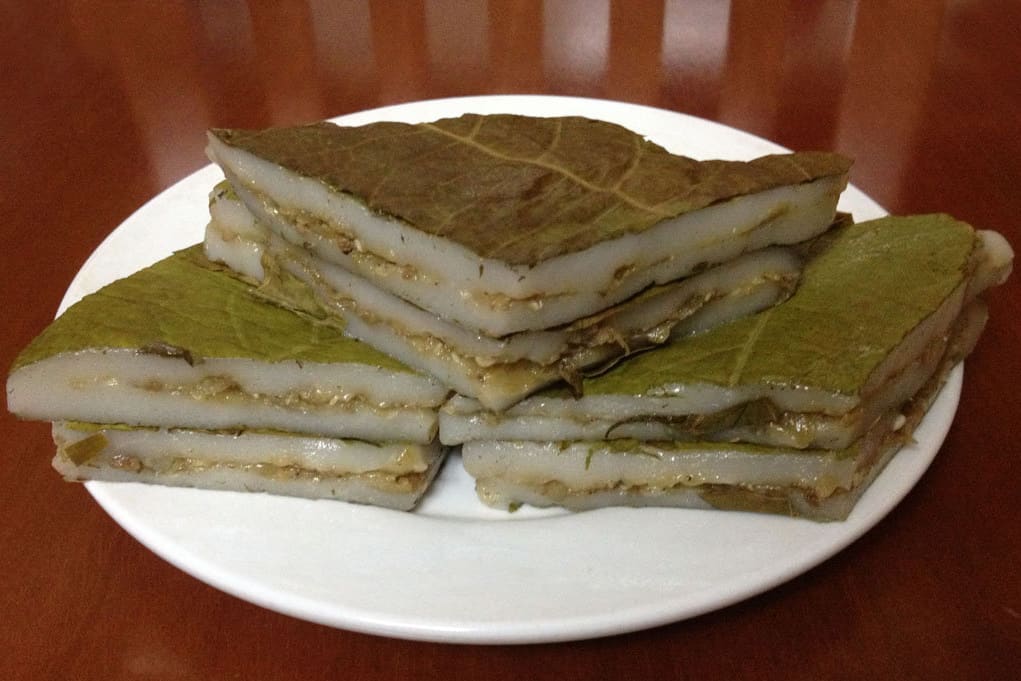 Being one of the most unique cuisines in Cao Bang mountainous area, the cake only appears from April to May when black garden ants multiply rapidly. Covered by mochi and tree leaves, people use immature eggs of the ants as the main ingredient. In case you feel worried about contaminated substances, the eggs are always fried with onions, peanuts and some pork before being crammed into the cake.
3. Cao Bang Steamed Rice Pancake (Bánh Cuốn Cao Bằng)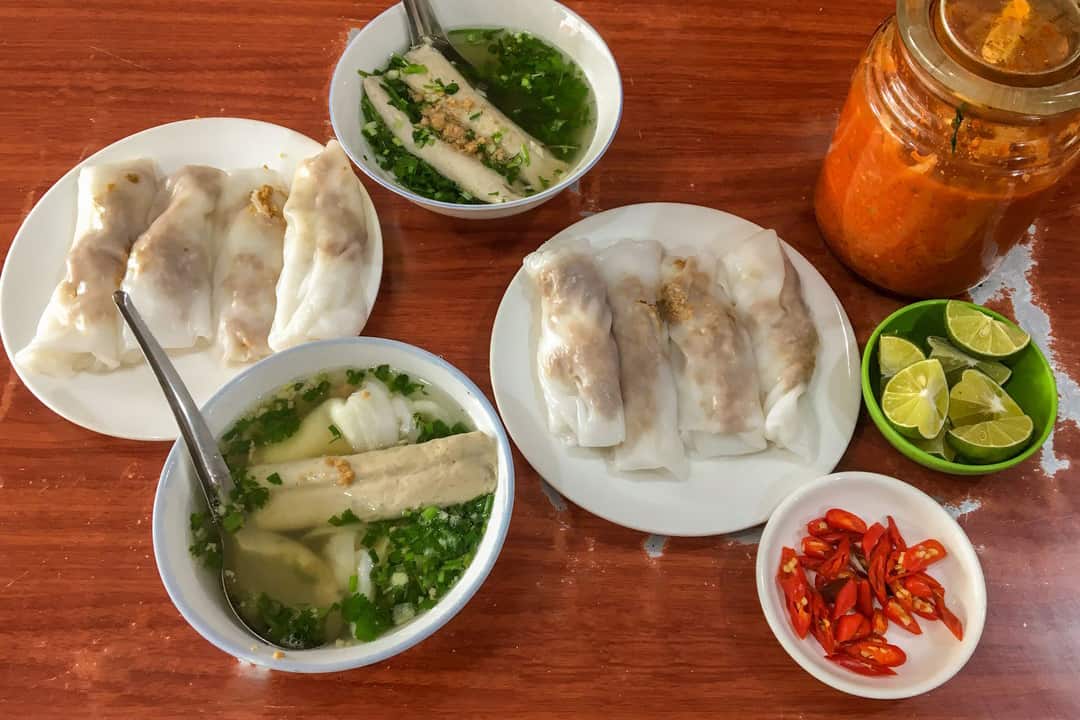 Unlike the common rice pancake, the Cao Bang alternative is famous for its special sauce that is made from bone stock. Usually, the bones are simmered gently for hours before serving, added with mince meat and spices to make it more sweet-smelly than ever.
4. Roasted Suckling Pig (Lợn Sữa Quay)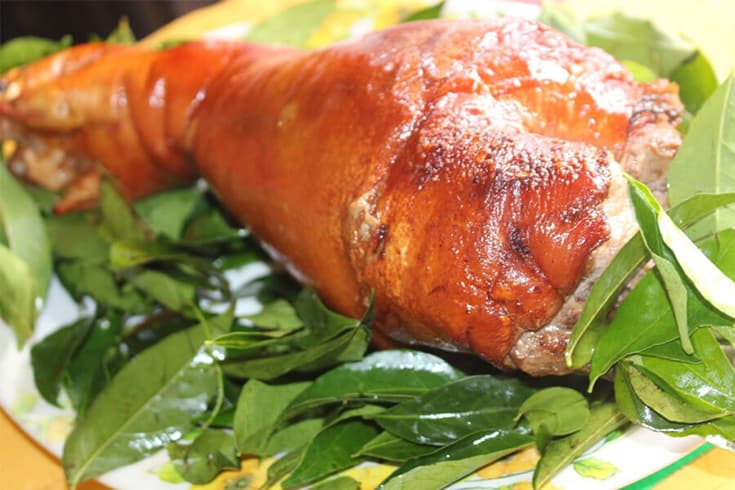 Local people should know that suckling pigs weighing from 4-6kg will serve you best. After being subjected to preliminary treatment, the pigs are stuffed with specialized medicinal tree leaves, skewered on a roasting spit, applied with honey and spices then cooked over a fire. Most would prefer medium-well doneness because the pigskin appears pleasant to the eye, tastes crispy and smells irresistibly delicious.
IV. How to Get to Ban Gioc Waterfall?
1. By Coach/Bus
In case you are not based in Hanoi, please take a flight to Hanoi capital to proceed further.
It often takes 7 hours from Hanoi to arrive in Cao Bang City, which should be listed as the following itinerary:
Start from 1A Highway -> Bac Giang-Lang Son Highway -> 4A Highway -> Dong Khe Town -> 208 Road -> 3 Highway -> 206 Road -> Arrive in Dam Thuy Commune -> Ban Gioc Waterfall.
2. By Personal Car/Motorcycle
When travelling by personal means of transport, some people prefer to take advantage of another route so that they can visit more tourist attractions during the journey. Some potential plans are:
From Hanoi, take the 3 Highway to Bac Kan Province, in which Ba Be Lake and Ba Be National Park are located. A vast variety of rare ecological species are present here, not to mention impressive landscapes and geology.

Instead of the 3 Highway, take the 4 Highway to Lang Son Province, where you can pay Mount Mau Son a visit and explore an one-of-a-kind experience.
Afterwards, you can head back to the route leading to Dong Khe Town and reach Cao Bang City later.
V. Extra Tips on Visiting Ban Gioc Waterfall
Bring all your personal papers in case you need them for identification and deposits.

Drive safely! The routes and trails are remote and tortuous.

Prepare mosquito repellents and necessary medicines for flu, cramp or diarrhea…

Reserve an amount of food and drink there are almost no food supply stores near Ban Gioc Waterfall.

Express respect for the ethnic's habits and customs when staying in the village some would prevent you from wandering around their own houses or touching their assets. It is advisable that you hire a local tour guide to get detail instructions.