Exploring Halong Bay nightlife is probably the best way to complete your journey in this land of natural wonders. In fact, being a big tourist hub, Halong Bay is attractive not only for its picturesque scenery but also for various activities to do at night.
And if you are still wondering what to experience in Halong Bay at night, this comprehensive guide below will show you the best parts of Halong Bay nightlife.
Is Halong Bay safe at night?
Halong Bay generally is a safe city to experience at night. It is not as crowded as big cities like Hanoi or Ho Chi Minh City. You can freely wander around the streets even until midnight. However, you should still be cautious about minor crimes like stealing and pickpocketing in night markets and public places. In addition, children and female tourists should avoid going out late at night.
Why you should spend time exploring Halong nightlife?
Halong Bay is among the biggest nightlife hubs in northern Vietnam: Halong Bay is not just about the UNESCO-recognized natural wonders but it also boasts an entertainment paradise, especially at night. There are a plethora of nightclubs, night markets, bars & restaurants, and recreational amenities open late midnight for you to experience.

A great alternative to a night merely sleeping onboard: As the sun goes down, the whole Halong Bay is embraced by darkness. It would be a bit tedious if you only choose to relax and sleep in the anchor area. Instead, you can choose a day boat to discover the best parts of Halong Bay during the daytime and spend a night exploring the city center.

Nightlife activities in Halong Bay are suitable for various types of travelers: Whether you travel independently or with a group or family, there is no dearth of things that you can do in Halong Bay at night. For instance, while pubs and nightclubs are best-suited for couples and youngsters, open-air markets are ideal places to go for families with children.
Things to do in Halong Bay at night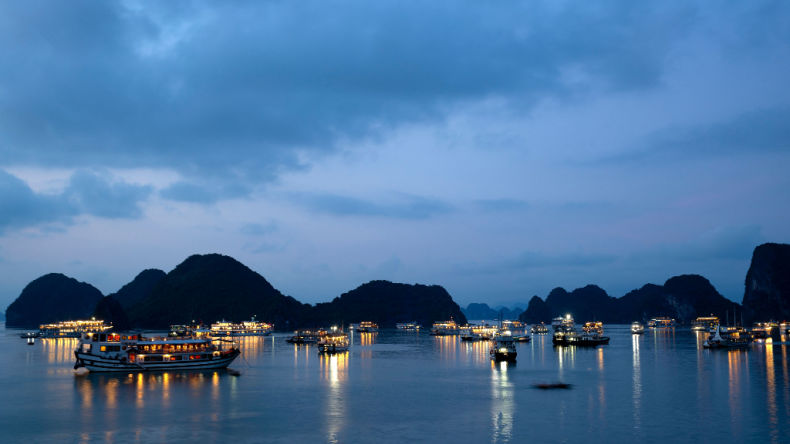 Cruises docking near Halong city at night
1. Check-in Bai Chay Bridge
Coming to Halong City, you should not miss a chance to pose some photos of the Bai Chay Bridge. This well-known cable-stayed bridge located on Highway 18 is the symbol of Halong City promoting traffic flow to the inner city. Measuring 435m in length, Bai Chay Bridge connects Hon Gai and Bai Chay, the two important economic and cultural centers in Quang Ninh province.
With a modern, impressive design, Bai Chay Bridge is a famous nightlife check-in spot for visitors. There are thousands of Led lights installed on the bridge making it illuminate vividly at night. From the bridge, you will have a panoramic view of the city and Halong Bay's seascape.
Colorful Bai Chay Bridge
2. Chill in seaside bars and nightclubs along Bai Chay Beach
Along Bai Chay beach, you are provided with a number of choices for beach bars and pubs. Cocktail enthusiasts often flock there late afternoon and stay until midnight to admire the marvelous sunset and sip great glasses of drink.
Here you can blend in the chilling atmosphere with live music performances, sumptuous wines, and cocktails and socialize with other guests. Best beach bars and pubs to visit in Halong Bay include:
* New Square Bar: Group 5, Zone 9, Cai Dam, Halong City. Opening hours: 7 pm - 2 am.
* Halong New Club: Group 6, Zone 6, Tran Thai Tong Street, Yet Kieu District, Halong City. Opening hours: 7 pm - 1 am.
* Valley Beach Club: Zone B, SunWorld Beach, Bai Chay, Halong City. Opening hours: 6 pm - 5 am.
* Fleur d'Or Maison Bar: SunGroup Walking Street (Near Novotel Hotel), Bai Chay, Halong City. Opening hours: 8 pm - 2 am.
* H Club: Group 7, Zone 4, Bai Chay Street, Halong City. Opening hours: 8 pm - 2 am.
Fleur d'Or Maison Bar
3. Capture stunning photos of the Sun Wheel
Sun Wheel Halong is a feature of Sun World Halong Compex, a renowned entertainment complex with multiple games and activities in the center of Halong City. Along with Sun Wheel Danang, this is one of two of Vietnam's biggest and highest wheels.
The wheel looks colorful with LED lights at night. Apart from taking beautiful photos, you should also buy a ticket to get on the wheel and contemplate the view of Halong City.
Sunwheel Halong
4. Wander around Halong night market
Open daily from 6 pm until late at night, Halong night market is a popular nightlife venue for locals and visitors in the center of Halong City. It is a part of Halong Marine Plaza Entertainment and Trade Center and comprises over 300 stalls selling a vast range of commodities and local specialties. Here you can walk leisurely, buy all necessary items, handmade accessories, and try local dishes. However, you should have good bargaining skills to buy things at cheaper prices.
Local food at Halong night market
5. Try Halong local restaurants
A trip to Halong Bay could not be complete without sampling local specialties. Here you can find some of the best seafood and local dishes in northern Vietnam. Top of them are grilled chopped squid, horseshoe crab, drunken prawn and lobster, oysters, and austriella corrugata. Those regional specialties can be found in the Cai Ram market in Halong City, Halong night markets, and seaside restaurants. Here are some restaurants that you can consider:
* Papa's BBQ: Cong Vien Road C346, Sun World Area: Road, Bai Chay, Halong city. Phone: +84 97 554 12 86. Opening Hours: 4 pm - 11 pm daily.
* Golden Crab restaurant: 32 Phan Chu Trinh street, Bai Chay, Halong City. Opening hours: 8 am - 10:30 pm daily.
* Linh Dan restaurant: 104 Bai Chay Road, Bai Chay, Halong Bay. Opening hours: 8 am - 9 pm daily (8:30 am - 9 pm on Tuesday). Phone: +84 91 463 4598 (verified as of Feb 2020).
* Advocado restaurant: C342-343, Old Street Zone, No. 9 Halong Road. Opening hours: 9 am - 10:30 pm daily. Phone: +84 203 6501 976.
* Mapa Bistro: 409 Cái Dăm. Opening hours: 10h-22h. Phone: 0763.409.409.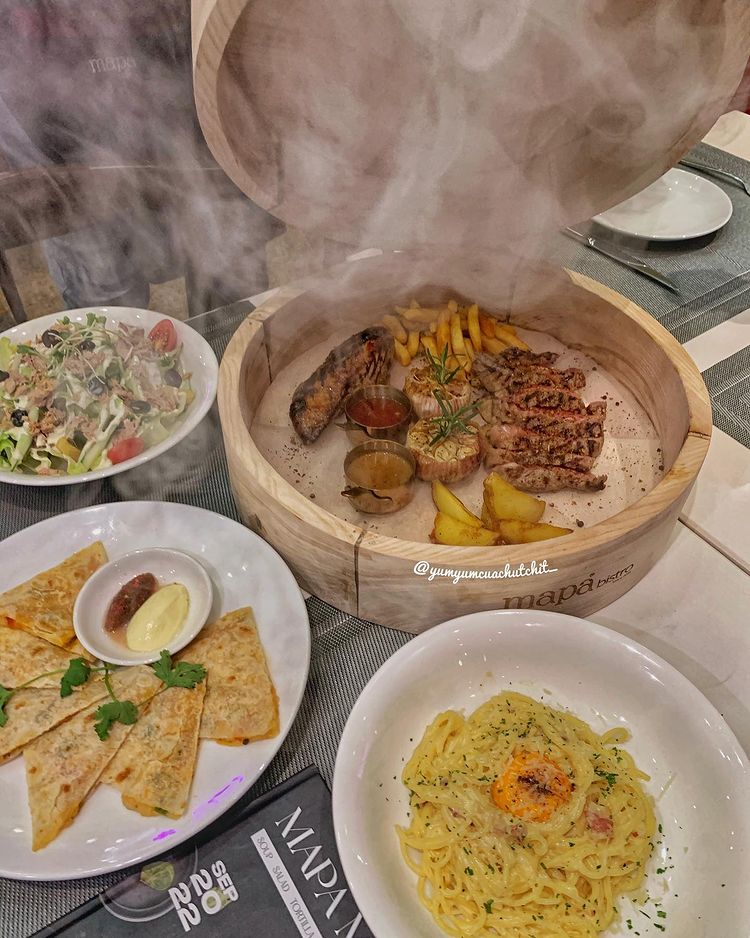 Mapa Bistro
6. Stay overnight onboard and take part in night entertainment activities
Experiencing an overnight cruise trip is a typical activity that you should pick from your bucket list. Staying overnight onboard does not mean only sleeping. You will enjoy great meals and have many chances to engage in night entertainment programs. Some of the most exciting activities are trying squid fishing, enjoying live music performances, playing board games, watching movies, and so on. Read our top 10 overnight cruises in Halong bay.
7. Play cards in The Royal International Gaming Club Halong
Royal International Gaming Club Halong is one of 5 gaming clubs in Vietnam. It is located on the first floor of the Royal International Gaming Club, Hotel and Spa Resort. This gaming center has high-quality amenities and gaming tables for 70 slots. It is open 24 hours daily and here you can play a variety of games like baccarat, blackjack, roulette, poker, and so on.
8. Watch the Water Music show on Tuan Chau Island
Tuan Chau Water Music Show is among the remarkable highlights on Tuan Chau Island that attract a large number of visitors. It is taken place at the International Entertainment Center, only 30 minutes from the mainland. You will have an opportunity to enjoy vivid, impressive music performances with colorful laser lights. The show lasts around 40 minutes and costs from 30.000 VND - 250.000 VND depending on the service you choose.
Essential tips when experiencing Halong Bay nightlife
* Halong City is rather safe to wander around at night but females and children should not walk alone.
* Pay attention to your personal properties while being outside, at night markets, and other public areas.
* You should bargain for buying items at a good price.
* Prepare cash in advance because credit cards may not be accepted in some stores.